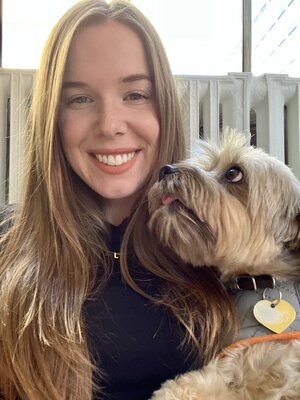 Artist Spotlight: Bridget Coleman
Bridget is a Portland-based queer artist who would describe her work as colorful and validating. She is often influenced by her own relationships, mental health, her identity as a queer woman, and queer media.
Can you tell me a little bit about your journey to becoming an artist?
Art was the one thing I could do for hours as a child. I made less time for it as I grew older, but I thankfully rediscovered my love for it during the pandemic. I started creating colorful cards for a loved one who was in the hospital, painting, and drawing while quarantining away from my partner, hand lettering affirmations while struggling with my mental health, and just creating art in a way that was really therapeutic for me. 
What was your inspiration behind the patch?
This design started out as a doodle almost a year ago when I finally started watching The L Word. Queer media and art have helped me accept and love my sexuality. I grew up thinking maybe it wasn't ok for me to be gay, although I felt it was ok for others. So this design was self-validating and a reminder to anyone else that needs to hear it, that it's ok to be gay! Don't let society, a close-minded community, or any being anywhere tell you otherwise.
What is your favorite charity/grassroots org to support?
The Trevor Project is a nonprofit organization that I donate to monthly because what they do is so important. They offer a free suicide hotline for LGBTQ+ youth. As noted on The Trevor Project website, LGB youth are almost five times as likely to have attempted suicide than heterosexual youth, so this support is incredibly paramount. 
Validation and visibility via art can be helpful, and for that extra support, there are thankfully amazing organizations like The Trevor Project and Organization for Refuge, Asylum and Migration (ORAM), who this patch supports!
Check out more of Bridget's work via Instagram