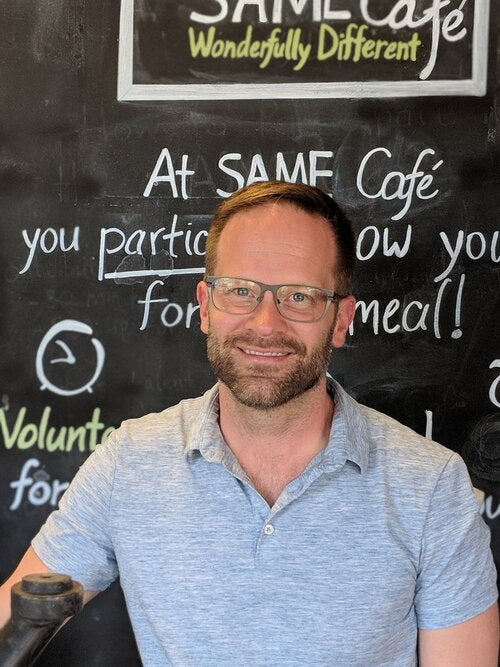 Changemaker Spotlight: Brad Reubendale
Brad Reubendale is the Executive Director of the SAME Café (So All May Eat) in Denver, CO - a donation-based, fair exchange restaurant that serves healthy food to everyone, regardless of ability to pay. Their mission is to create community through healthy food access. Before he was leading the organization though, Brad was a frequent visitor of SAME Café.
He, like many Americans over this last year, experienced hunger and food insecurity in his past. During this time, he relied on SAME not only for nutritious meals but also for a sense of community. For him it was the only place he could feel at home because losing your job can lead to more than losing access to housing or food; it can often lead to a loss of belonging.
As Mother Theresa poignantly put it -
Luckily for Brad back then and so many others today, SAME Café not only provides delicious, nutritious meals but also a welcoming atmosphere that confers dignity on its visitors and radiates a sense of community. Something all of us, regardless of the financial situation we're in, need and yet too often lack.
This community and the impact it has had on countless individuals wouldn't have existed if the changemakers that founded SAME hadn't set out to build it, brick by brick. It wouldn't be running today, adapting to the hardships the pandemic brought, without changemakers like Brad and his team.  
In the midst of our busy lives, we shouldn't forget that we can all have some kind of impact and create lighthouses that others can be drawn to, whether in our own homes, our communities, or on a broader scale.
Brad is an inspiration for us all to strive to turn our struggle into service that brings us the joy and fulfillment that we are all capable of receiving. As he notes -
"I am so grateful for the food I ate at SAME Café during the hardest months of my life. Hunger and food insecurity have many faces and stories. Every day in the Café, I hear the challenges of people who sleep on the streets, the struggles of people managing celiac disease and diabetes, and the strength that healthy food gives to people fighting an addiction. I am inspired by each person who entrusts their story to me, remembering that I had my own season of life when I needed the dignity and healthy meals that the SAME Café community provides. I am humbled by how lucky I am to spend my days leading the organization that fed me when I was in need!"
After this year of many different kinds of struggle, hopefully, you find time to make some change, whatever it may be.
Check out the incredible work SAME is doing here. You can support their mission by donating directly or purchasing one of our Colorado patches, 50% the proceeds of which go directly to SAME.