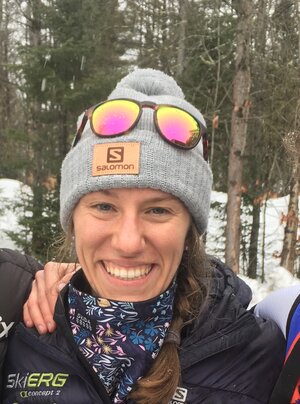 Artist Spotlight: Kaitlynn Miller
Kaitlynn is a Vermont-based artist (more specifically, a Northeast Kingdom resident) whose work is largely inspired by nature and the beauty of our surroundings. She loves finding ways to share that beauty with others through art.
Can you tell me a little bit about your journey to becoming an artist?
For as long as I can remember I've loved creating art and experimenting with new mediums. It brings me a sense of balance, excitement, and inner peace. During my career as a professional cross-country skier, I always brought art projects on the road. Creating art helped me manage the stress of competition and life on the go, and I hope that the work I create brings a similar sense of peace and balance to others.
What was your inspiration behind the patch?
Vermont's Northeast Kingdom, or The Kingdom, consists of the three counties in the northeast corner of the state and is quiet and rural with endless opportunities for outdoor recreation in the area's forests, lakes, and mountains. One particular activity that keeps growing in the region is mountain biking and the Northeast Kingdom has become a mecca for the sport. I also wanted to share the unique and eye-catching Willoughby Gap formed by Mount Pisgah (left) and Mount Hor (right) with Burke Mountain in the divide.
Image by Caitlin Patterson
What is your favorite charity/grassroots org to support?
I'd have to say Fast and Female which is a Canadian-based charity on a mission to keep self-identified girls aged 8-14 healthy and active in sports. The charity was founded by an Olympic cross-country skier and I've had the wonderful opportunity to be an athlete ambassador at many Fast and Female events across the US, including right here at home in the Northeast Kingdom. 
I really love the fact that with this Northeast Kingdom patch I'm able to give back to my Vermont community through my art. 
Check out more of Kaitlynn's work via Instagram