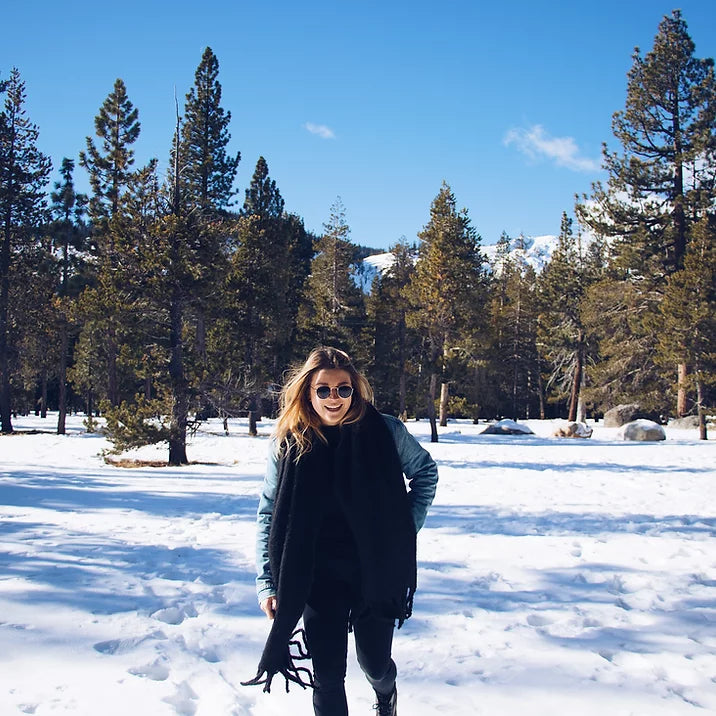 Artist Spotlight: Jesse Wulfman
Jesse Wulfman is a Burlington-based artist who attributes her own creativity, imagination, and love for the outdoors to her childhood growing up on a farm, in a 500-person town, in rural Vermont.
In this small town called Ripton, with no cell service and just a quaint general store, the National Forest was my playground and the front porch was my art studio. Caring for the animals, helping in the garden, and stacking wood with my dad was my education in hard work, dedication, and generosity. My siblings and I were expected to make our own fun. For me, that meant leaving a trail of art projects wherever I went, collecting beautiful fall leaves to press with my mom, building forts, and climbing trees. Few people can say they grew up in a place like mine, and my endless gratitude for the gifts it has given me will never fade.

Can you tell me a little bit about your journey to becoming an artist?
My love for art, which began in childhood, grew throughout my adolescence and led me to take a year-long Design and Illustration course from a technical trade school attached to my high school during my senior year. It is here that I discovered my love for design and printmaking, and was encouraged to pursue graphic design as a career. While working towards my BFA in Graphic Design at the University of Wisconsin-Madison, I was able to explore the disciplines of film photography, book arts, printmaking, hand lettering, and illustration, weaving these passions into my design practice. The melding of these different mediums has resulted in my design work focusing on color, texture, and the incorporation of hand done elements, with the hope that the viewer can engage with and be excited by my work.
What influences your work?
Because of my deep love for and connection to nature, naturally my work is often inspired by the natural world around me. I have found that a walk in the woods with my dog, a backcountry ski at sunset, or a sunrise swim in the lake can serve as mediation and a source of inspiration for both my creative work and my life overall.
What was your inspiration behind each patch?
The inspiration behind my first two patches revolves around my love for my home, and my passion for environmental preservation. My Burlington patch is an ode to this beautiful city which I now call home, on the shores of Lake Champlain and nestled into the Green Mountains. My Pollinator patch highlights the crucial role that pollinators play in our environment and the power that saving these species can have in combating climate change.
What is your favorite charity/grassroots org to support?
There are so many incredible charities and grassroots organizations in Vermont doing amazing work for our communities and beyond. Bee The Change, a local non-profit that utilizes the unused space in solar fields to plant pollinator habitat, among other environmental pursuits, is a company that is close to my heart. I have worked on projects for Bee The Change in the past and I continue to support their important work. Vermont Adaptive Ski and Sports is another amazing organization that empowers people of all abilities, including those with mental and physical disabilities, through inclusive sports programming. This organization has had such an immense impact on the outdoor recreation community and has helped to make this space more accessible and inclusive for all, which I deeply admire.
Anything else you may want folks to know about you, your work, and these patches?
I'm thrilled to be working with Outpatch and to have the chance to create illustrations that serve a greater purpose, and I'm excited to continue to collaborate with a company whose values so closely align with my own.
Check out more of Jesse's work- Website