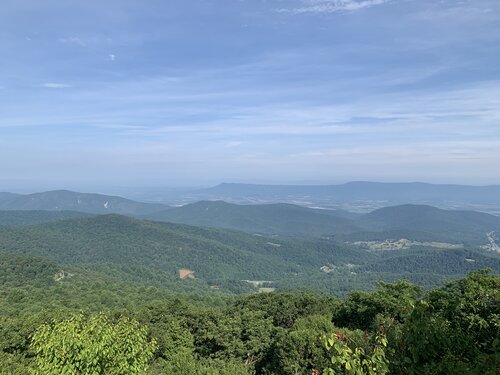 Explore the Outdoors in VA
With the launch of our new Virginia patch this week, it seemed like the perfect time for us to share some advice about how to explore the captivating but underappreciated outdoors of the state. Considering I just made my own memorable trip to Virginia over the summer, I figured a recollection of that experience would be a good chance to introduce myself as a new member of the Outpatch team. By the way, I'm Ethan. I'm a freshman at Dartmouth College in Hanover, NH right now but I was born and raised in Cleveland. I honestly just really got along with the Outpatch team when I met them at a startup fair organized by my school, so I joined to contribute to the weekly newsletter and blog posts. I guess it's hard to sum myself up in a sentence, but some of my favorite things to do right now are hiking, kayaking, and any other opportunity to explore the beautiful nature in New Hampshire (it's a lot prettier than Cleveland). On that note, let's get back to my story about Virginia.
When the pandemic canceled the end of our senior year and our plans for the summer, a friend and I decided we were going to make the best of our newfound free time by camping around the country. As a lot of us have figured out, spending time outside has been a great way to have meaningful experiences during the pandemic; taking trips with an outdoor focus is still the best way to travel safely as we try to finally bring COVID to an end. After starting small with a couple of one-night trips around Cleveland, we worked our way up to Pennsylvania, New York, and Michigan. As the summer wound down, we knew we needed to finish off with a big one. So, when looking for cool places to visit within the entire span of a day's drive from Cleveland, we stumbled across Shenandoah National Park in Virginia. To be honest, I didn't even know it was a thing; like a lot of people, I'd never thought of Virginia as being a place with interesting nature. But once we saw some pictures of views of the Blue Ridge Mountains, we knew the 8-hour drive would be worth it.
When we had begun our summer travels, we realized that finding a place to set up a tent for a night was easier said than done. So, once we discovered the app Hipcamp, it became a great tool for finding places to stay that were convenient but still special. Basically, Hipcamp is like AirBnB specifically for camping. You reserve a campsite or cabin directly from locals who own them, choosing from a variety of options based on reviews or photos posted. With Hipcamp, you definitely feel immersed in the place and community you're visiting.  When you stay on somebody's property maintained just for guests like yourself, you're reminded that your destination is the home of real people, not just pretty scenery to visit. On all our trips, we interacted with great owners who truly cared about providing us a good experience. We also enjoyed exploring the surrounding small towns and getting a glimpse into life in a place we'd never have otherwise known of. Since you're directly buying from a resident of the place you're visiting with Hipcamp, the platform definitely shares some elements of Outpatch's own "give where you go" philosophy. In Virginia, we stayed on a patch of farmland in a town called Elkton. It was a peaceful spot right along the Shenandoah river, and we saw some beautiful sunsets as we went swimming, relaxed in the hammock, and cooked our camping dinners at the site.
A view from our campsite
The convenient location of our campsite also made it easy for us to do what we came for: hiking Shenandoah National Park. The defining feature of Shenandoah is Skyline Drive, a 105 mile road that runs the entire length of the park and offers stunning views along the way. In fact, the Blue Ridge Mountain vistas you can see from the drive were the inspiration for the designs on our new Virginia patches. While the scenic view areas right on the road are worthy enough of stopping at, Skyline Drive also gives central access to a variety of hikes. One that I recommend is the Dark Hollow Falls Trail. It's doable for all skill levels and ages given that it's only 3 miles, but I still think the hike is worth it for everybody. The main destination is an impressive waterfall that cascades down into an enclaved pool, which is a tranquil spot to relax in the shade and even swim. Another hike that I enjoyed was called the Upper Hawksbill Trail. Once again, I consider this hike to be great "bang for your buck": it's only 2 miles, but provides unmatched panoramas of rolling green mountains  at the rocky, open peak. Finally, if you want a bit more of a test, you should try the Old Rag Trail. We didn't have time for it, but this 9.2 mile climb is considered a classic for the park. If you're hoping to get that extra satisfaction that a beautiful view brings after you've completed a strenuous hike to get there, Old Rag is a great choice.
            But while we're on the subject of completing hikes for the sake of achievement, we need to take a step back and remember what spending time in nature is really all about. Even those of us who consider lovers of the outdoors can easily get caught in the idea that we are distinct from the natural world, that every piece of nature is just another thing for people to dominate. But rather than conquering nature, we all know that we coexist with it. Just like how I mentioned we must be good guests in the communities we visit, we must also be good guests in the nature we love. Instead of carelessly taking advantage of nature for our own gratification, we should strive to ensure that it remains for future generations. As a result, we should all implement the tenets of sustainability every time we set out to enjoy the outdoors. By grounding yourself in a deep sense of place while in nature and resolving to leave no trace once you're gone, you can help both yourself and others achieve richer experiences with the natural world for years to come. Ultimately, my own takeaways from my Virginia trip encapsulate the Outpatch philosophy: whether it's in terms of the local community or the environment itself, we strive to always leave the places that we visit better than we found them.