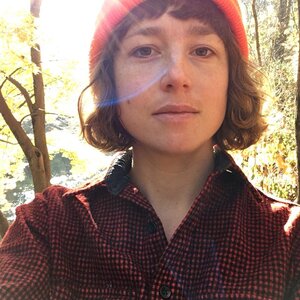 Artist Spotlight: Cecily Anderson
Set in Central Vermont the town of Tunbridge is framed by beautiful hills and sits on the First Branch of the White River. In our humble (and subjective) opinion it's one of the most beautiful places to be in the world and we're grateful to call it Outpatch's first home. The place and its people have deeply impacted our vision.
Tunbridge is also small, even by Vermont standards. Small enough that when we started asking around for a local artist to design a patch that would embody Vermont, we did not at all expect to find one amongst our neighbors. Literally the first person we asked though led us to Cecily. From our initial (Zoom ☹) conversation, we knew we wanted her to bring a Vermont design to life for us. Her talent and artistic vision did not disappoint. Get to know a little about Cecily and the inspiration behind the Vermont Outpatch she designed below.
Cecily Anderson
Cecily has been practicing design and illustration for over a decade, with a particular focus on serving the needs of nonprofits. Before launching her own venture, Anagram in 2009, she worked as a Graphic Designer and then an Art Director at Public Interest GRFX in Philadelphia.
How would you describe your work? What inspires you?
My illustration practice serves organizations working to make the world more just and sustainable, so there's definitely a common thread of images of uplift and empowerment. I love illustrating intimate moments of people in nature, when the noise falls away and our sense of belonging surfaces.
What was the inspiration for this piece? What were you trying to say?
I love sugaring because it allows me to get outside and connect with the earth again long before the ground is ready for planting. I collect sap alone, just me in the trees. And then boiling is very social — hours of puttering around with your neighbors in a sugar shack drinking sap coffee and gossiping.
(Sugaring is the process, some would say art, of turning the sap collected from trees into maple syrup).
What do you love most about Vermont?
That's a good example of what I love best about Vermont—connecting with people through shared work on the land.
What is your charity of choice?
I give to a bunch of organizations — I think Doctors without Borders, 350.org, and NPR are on my monthly giving list right now. Fighting climate change is the most important thing.
What is your favorite local spot?
Favorite local spot: In summer, it's swimming holes in the First Branch and White Rivers. In winter, it's the woods around my house, where I ski with my dog.
We're so grateful to have been able to work with Cecily. You can check out more of her work like these illustrations here.