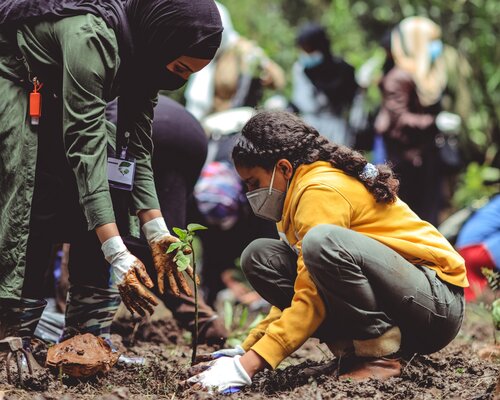 Regenerative Travel
Future of Travel: How one new approach to travel plans to change the world.
What is regenerative travel?
Since the New York Times published their article, "Move Over, Sustainable Travel. Regenerative Travel Has Arrived" the conscious travel world has been abuzz with this new idea. But what is it, really?
Regeneration is not a new concept; it's been employed for decades. In agriculture, it aims at restoring and rebuilding degraded soil. In architecture, regenerative design is a whole system of thinking with the future in mind—restore, renew, and revitalize.
The travel industry, heavily dependent on fossil fuel-guzzling flying machines transporting people from A to B, is no stranger to reckoning with its environmental footprint. From guilt-trip requests to hang up our towels to the more recent carbon offsetting movement, the industry (and its consumers) can be credited with some steps in the right direction under "sustainable tourism." This movement had its shortcomings though.
"Sustainable tourism is sort of a low bar. At the end of the day, it's just not making a mess of the place," Jonathon Day, an associate professor focused on sustainable tourism at Purdue University, told The New York Times.
Regenerative travel is not just about environmental impact, but societal too. We should absolutely care about our sustainability best practices when traveling, but the regenerative travel movement pushes for a more holistic approach to travel. Essentially, it's about leaving the places we visit better than we found them—environmentally, economically, and culturally.
So what can we as conscious travelers do to travel more regeneratively? Here are our tips:
1. Take time to educate yourself.
Learn about the communities you visit. We recommend listening to The Lost Geographer podcast for a crash course in cultural literacy by country.

Regenerative Travel is a booking platform to discover higher end resorts dedicated to positive social and environmental impact, their blog is a great resource to learn about how and where to travel regeneratively.

The Good Travel Guide helps travelers find responsible holiday options offered by destinations working for a sustainable future. Incredible resource and organization.
2. Booking your travel experiences: use regeneratively minded accommodations and tour groups. Two resources to consider:
Kind Traveler is the world's 1st socially-conscious Give + Get hotel booking and education platform that empowers travelers to positively impact local communities and the environment in the destinations they visit.

Intrepid Travel, the small-group tour company that, until the pandemic, ran more than 1,000 itineraries globally, has been carbon neutral since 2010. This year it extended its pledge to cover 125 percent of its carbon emissions.
3. Be good stewards.
Go plastic-free – reduce the waste of the community you visit. Bring a reusable bottle and metal to-go containers. 

Turn off the air conditioners, lights, etc – Air conditioners, or "refrigerants," are a massive contributor to greenhouse gas. Decrease your footprint and turn off your appliances when you leave your room.
4. Give back.
Pack for a Purpose, a non-profit, based in Raleigh, NC, that makes it easy for travelers to carry much-needed supplies to the local communities they visit.

Make a small donation to the communities that host you, whether to a local church/temple, a vetted nonprofit, or through Outpatch. 
Once doors open and adventure resumes how are you going to leave places better than you found them? In this post-pandemic world, is there any doubt that we must travel regeneratively?