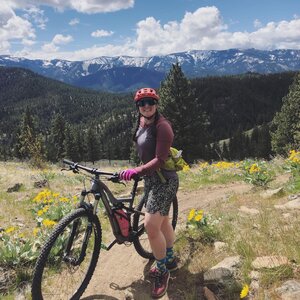 Artist Spotlight: Kate George
Here at Outpatch, we've been following Kate's work and knew her illustrations would make the perfect little PNW-inspired patches (and in our humble opinion… they are). Based in Seattle, WA, her work is influenced by the great outdoors with playful illustrations and abstract patterns that make you want to get out there. We recently chatted with Kate about her work and the inspiration behind the Washington patches. From the first call with Kate, we connected on the power of local changemakers, the power of community, and getting people OUTSIDE! Check it out:
Can you tell me a little bit about your journey to becoming an artist? How would you describe your work? What influences your work?
I've had a pretty long journey to becoming an artist! My mom is an artist and we were always doing creative projects when I was younger and I loved to draw. When I went to college however I chose a more stable career option and went into accounting. Long story short, I didn't last very long as an accountant and ended up taking an entry level position as a graphic designer. From there I honed my skill and eventually started taking on freelance projects and more drawing projects. My illustrations are playful and fun, making you want to get out there and look good while doing it. My work is mostly influenced by the outdoors! Since moving to the PNW, I spend most of my free time in nature and I'm really inspired by flowers and animals. I also love drawing the things we use while we're outside, like gear and snacks!
What was your inspiration behind the patch?
The patches were inspired by the beautiful scenery you see here in Washington. Take a sail boat or ferry ride to the San Juan Islands and you'll get an unforgettable view of Mt. Baker and the water. Take a drive from Seattle and you'll experience just how big Mt. Rainier actually is and how it beautifully dominates the space around it. Washington to me is all about getting out there and seeing what the state has to offer. To grab a backpack and explore an area that you haven't been to before.
What is your favorite charity/grassroots org to support?
My favorite organization to support locally is Edge Outdoors, which is an organization that helps get women of color on the slopes.
Anything else you may want Outpatch customers to know about you, your work, and these patches?
You can find my work on my instagram @kategeorgepnw or on my website www.kategeorgepnw.com