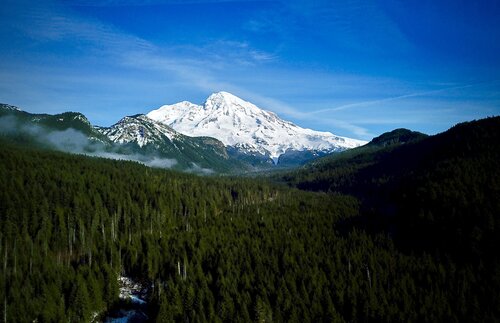 Best places to hike around Washington
While Washington State may seem distant for many of us, the incredible range of hikes that this state offers means it's well worth the hike to get there. Its location in the Pacific Northwest gives it a uniquely diverse landscape: with rugged mountains, dense rainforest, rolling plains, and sandy coastal beaches, Washington's geography seems more like it belongs to several countries than a single state. With so many places to explore and each one containing its own array of wonders, Washington is a hiker's paradise. Here a just a few landmarks to visit for a taste of everything Washington has to offer.  
1. Mt. Rainier
With a peak elevation of 14410 ft, Mt. Rainier is one of the greatest mountains in the contiguous United States – in fact, it's actually an active volcano as well. As the snow-covered summit rises above the clouds, the experience of overlooking endless mountains around you is like nothing else in the entire country. But since it's quite a commitment to tackle the whole mountain, it's fortunate for the rest of us that Rainier is so much more than the view from the top. With wildflower-filled meadows, ancient forests, and dozens of unique wildlife species, the Rainier landscape has tons of interesting features to discover. Whether you're a serious climber or just a lover of nature, there's no question you'll find something amazing on your trip to Mt. Rainier.  
2. The Palouse
To demonstrate the great contrast in Washington geography, it's perfect to go from the imposing Mt. Rainier to the peaceful plains of the Palouse. This region in southeastern Washington is marked by bucolic rolling hills covered in wheat fields. You can climb one notable mound of quartzite called Steptoe Butte for a particularly good viewing location. While the Palouse may not be an official park filled with attractions, that's exactly the beauty of this region: it's impossible not to relax as you wander the tranquil countryside.
3. Hoh Rainforest
For another huge shift in the landscape, let's go to the northwest corner of Washington to the otherworldly Hoh Rainforest. Not only does this rainforest look like it could be the Amazon, it might as well be something straight out of a Star Wars planet. The 14 feet of rain that the rainforest receives every year makes it incredibly lush, teeming with diverse plant and animal life. For example, while moss might not be something that typically sounds exciting, a walk through the deep green Hall of Mosses is sure to change your mind. As for the animals, you can see an exotic collection of snakes, elk, mountain lions, otters and more. While you might have thought you need to get to South America to hike through the jungle, the Hoh Rainforest has it all right here in Washington State.
4. San Juan Islands:
In case you thought the most classic vacation destination was missing from Washington, no need to worry: some of the most uniquely beautiful beaches in the world can be found on Washington's San Juan islands. With over a hundred islands, there are endless experiences to try. For example, on the quiet Lopez Island, you can cycle or hike down miles of shoreline, traveling through farmland, bays, and forests. With Orcas Island, the main attraction is in the name: killer whales live in the San Juan islands year-round, so this is one of the best places to spot them in their natural habitats. Finally, on San Juan Island itself, you certainly won't run out of opportunities to get into the wild; you can kayak, bike, hike, and take in the beautiful nature in whatever way you like most
Whether you're taking an official trail or an impromptu stroll, the best thing about hiking is that it's whatever you want it to be. Everybody has their personal favorite ways to get into nature, and everybody has a certain kind of environment they love most. We're trying to capture the beauty of just a few of Washington's wonders with our newest patches, because no state represents this spirit of hiking quite like this one; no matter where you go or what you enjoy, you're sure to find something that amazes you in Washington.